Date/Time
Date(s) - 09/11/2015 - 10/11/2015
10:00 am - 5:00 pm
Location
Wellcome Building
Category(ies)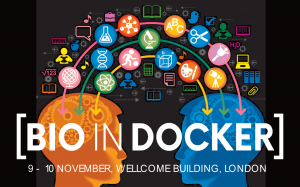 9 & 10th November 2015
Kings College London and the Biomedical Research Centre (BRC) will be running a 2 day Docker in Bioinformatics event towards the end of 2015.
Docker is now establishing itself as the de facto solution for containerization across a wide range of domains. The advantages are attractive, from reproducible research to simplifying deployment of complex code. Several bioinformatics groups are now utilizing this for various purposes, we would like to bring together some notable cases to discuss how advantage of this new technology can best be achieved.

At KCL, our group are presently using Docker to encapsulate our Next Generation Sequencing pipeline tools, our aim is to provide up-to-date containers for the most commonly used tools, benchmarking data and provide a framework to string these containerized tools into pipelines which can easily be deployed anywhere. The project is called NGSeasy https://github.com/KHP-Informatics/ngseasy.
We propose the 2 day event to include:
A day of talks from selected speakers

Feature talks
Lightning talks

We would also like to identify where common goals exist in the bioinformatics arena and explore how efforts in containerized solutions could be aligned by establishing a community of Docker users and resources (with a similar function to that of Bioconductor for R). This could include:

Communal repositories
Documentation and tutorials
Forums

Running a mini-hackday to introduce, demonstrate, and invite participation using Docker on some interesting and well scoped problems.
Up-to-date Agenda:
BioinDockerAgenda8-11